Here is the aggregated information from Internet regarding Joe Flanigan on Collectormania 16. The event happened on May 28-31, 2010 at Milton Keynes, UK.
Rundown:
Joe Flanigan was announced as guest at Collectomania 16 for Saturday-Sunday-Monday but appeared there also on Friday signing autographs, as a complete surprise to the fans who were lucky to attend this day. As a consequence, he was not too busy and apparently quite charming and chatty, shook hands, gave occasional hugs & kisses on cheeks.
@Sweet_Memories7: Met Joe Flanigan today, a perfect gentleman, funny and handsome too. Don't get many of them now days.
Joe also bought an iPad on Friday and was showing off his shiny new geek-toy to his guests. Some were even lucky enough to get a test-drive
(@MimFox said thanks for trying out)
@Clairefanmad: Saw Joe Flanigan today who showed off his new Ipad which was playing Johnny Cash
WormholeRiders' reporter @honesthunny tweeted via @Vala_the_Great a curious Q/A with him on Sunday:
Wow Joe answered munchy's question what dinosaur would he be.. A teryldactyl cause he could fly

Joe also said … he'd like to be a brontosaurus it'd becool as he could see everything he could be nosy!
@gairwyn also said that Joe gave weird looks regarding SGU http://tl.gd/1j21fc
That was halfway through the convo but he asked me whether we got it in the UK and if I liked it. I'm not a fan of SGU yet but I was trying to be polite b/c it's part of the franchise and I'm giving it a go. He looked up at me, frowned and I don't know how to describe it…but yeah, he sounded a wee bit indignant. I suppose it's b/c SGA and SGU are that different. I don't know, I think you had to be there to get the effect b/c it's hard to describe his expression and tone now! Sorry!
Martin Firrell also tweeted that he was editing Joe Flanigan material on Saturday, and on Sunday they apparently met up for a dinner and a drink
(Monday) @martinfirrell: Hangover! Too many margaritas with #JoeFlanigan. He had the steak. I had the fish.
After the Collectormania event Joe Flanigan headed straight for Costa Bravo (Spain) and then to Morocco.
Reports:
oparu - Joe Flanigan, thespian and feminist – had an interesting conversation where Joe Flanigan praised Torri Higginson, complained about SGA producers and ranted how show business is unfair to aging actresses. She shared this report later on our journal here: Opal meets Joe Flanigan at Collectormania 16
The Flan Info - Sarah Bettles meeting Joe Flanigan at CollectorMania 16 where she presented him for signing a printout of Joe Flanigan Advocacy pages besides her own photo-op.
WormholeRiders - CollectorMania 16: R2D2, Daleks, Dinosaurs, Joe Flanigan, Twilight Eclipse (with Promo Trailer)! where the author promised a separate report on Joe Flanigan to follow but none was published as of yet.
The Flan Info - Charlotte Rodrigues meeting Joe Flanigan at CollectorMania 16 where he talks about considering Twitter and wishing to be cast for a Rockford Files remake.
stevie_79 - Back from the dead: a funny story shared with her at Collectormania by Joe Flanigan, involving a fan who sneaked in on him at the Chicago airport when Joe was flying from the USA to get some pictures signed.
tashirasbubble - Collectormania 16 report and pictures: a lovely story of a family visit with Joe winning the heart of their shy little daughter, later aslo shared on our journal here: Tracie Tiller meets Joe Flanigan at Collectormania 16
TravelShorts – Collectormania MK report: a little about everyone and everything, featuring a few words on Joe Flanigan confirming what everyone else said that he was chatty and very friendly:
[autorgaphs] Next was Joe Flanigan who plays John Sheppard in Stargate Atlantis. He was chatty and seemed nice spending time talking to everyone.
[photo-ops] The final photo shoot was with Joe Flanigan, who was as friendly as ever (much friendlier than the photographer who had a right go at a few of the girls who where working there).
Photos:
All week-end Joe Flanigan looked apparently quite dashing, clean-shaven, wearing dark costume, first two days, and next two days – an English football 3 Lions west, to many local fans cheering.
Martine Delalleau (Titine062) shared on Twitpic first pictures taken by her friends:
And some more on her LiveJournal:
Pics taken by Starbuck1980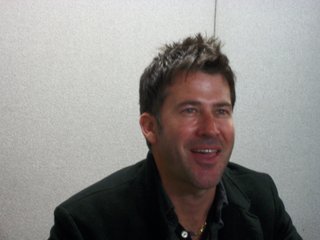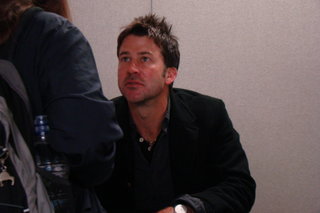 Pics taken by Aeryn11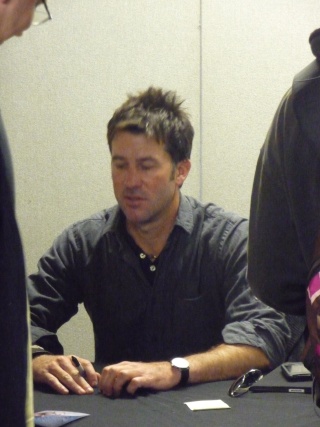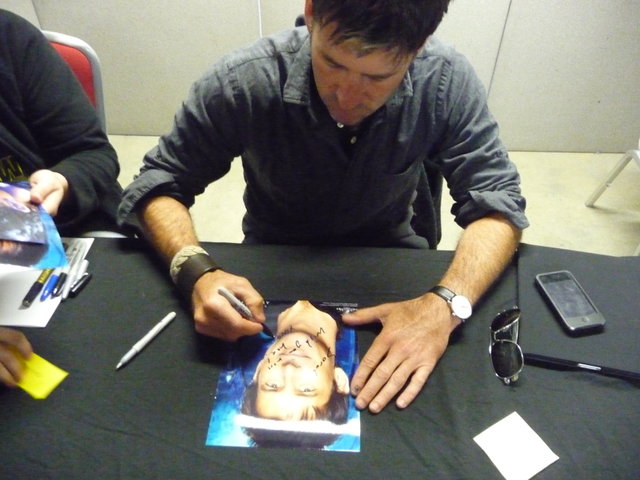 Rachel Staplehurst (@RachStaplehurst)  tweeted out her WindowsLive album from Collectormania 16 with a few nice Joe Flanigan pictures:

The best of @tashirasbubble photos (visit her original post for more):